A Tour of Apulia  cannot be such if it does not touch all or at least some of its  main attractions, a blend of  history, art and culture, beaches,  food and wine and natural beauties! 
Tours of Apulia , seen by Soleto Travel! 
If you want to discover a region that you have not yet visited or you are a foreigner and want to enrich your trip to Italy, Soleto Travel is the ideal partner for you. Soleto Travel is a DMC Europe (Destination Management Company), which provides a wide range of tourism  services in Italy, Malta and other Mediterranean countries for individuals and small groups. Our proposals include private and small group tours, such as food and wine tours to discover the agri-food excellence of the territories visited, historical and archaeological tours, outdoor activities, transfers, private excursions to Malta and Italy and on request for cruise passengers.
Our strengths are: reliability in service, attention to detail, customer care and efficiency!
We are the ideal partner to plan the trip of your dreams: customization, attention to detail, exclusive locations, special care and assistance! 
Apulia 
Puglia is the south-eastern region of Italy with the longest coast in the country: 865 km of rocky and sandy coast, caves and a very diverse nature.
Apulia is bathed by two seas, the Ionian and the Adriatic, has several sub-regions, the towns appear as white limestone spots. It has thousands of years of history, several stunning UNESCO heritage sites, thousands of hectares of olive groves and, above all, one of the best and most sumptuous cuisines in Italy.
The "heel" of Italy in hindsight opened to tourism only 15 years ago. This aspect is the central point of this region: it is authentic. A journey through time that takes you back 200 years. We are not referring to economic development but in terms of preserving traditions and culture.
What you Can find in Puglia are the traditions that the ancestors have created for centuries: a family business that passes from generation to generation, homemade pasta cooked by an Italian mother or grandmother, family dinners on Sundays and generous parties, tablecloths embroidered, beautiful ceramics, and much more. 
A popular destination 
English, Swiss, Germans, Austrians, Dutch, Americans are attracted to Puglia so much that they buy houses or make them a fixed destination for their holidays. This is the favorite holiday region of Ivanka Trump, Helen Mirren, who bought a mansion here, Hugh Jackman and editors of major British fashion publications. 
Apulia and the nearby city of Matera have been the favorite locations of several American film directors in recent years. Contributing greatly to increasing the popularity of this destination halfway between Italy and Greece. 
Madonna celebrated her birthday in Puglia in 2021. It certainly cannot be said that it is not covered as a location, the whole world envies it! 
Discover the Puglia Tour with the precious tips from Soleto Travel! Find out how to organize your holidays in the best way to visit it at its best. 
For information contact us at +393489340998 or at +356 7936 1435. Or send an email to mailto: italy@soletotravel.com or mailto: info@soletotravel.com 
Cultural tours and cities not to be missed! 
Alberobello, Ostuni, Lecce, Matera, just to name a few, are the pearls that Puglia possesses and that you absolutely must visit. A
Alberobello and Matera have been UNESCO World Heritage Sites since 1993, a source of pride for the whole of Italy.
The trulli are so characteristic because they are the result of the ingenuity of the peasants. The Itria Valley was an uninhabited area and during the Middle Age it was ceded to the first count of Conversano. The count tried to develop this territory and invited the peasants to settle in his lands, live and work on preferential conditions. When the King issued a decree that imposed a tax on all settlements; the inhabitants relied on their wits and built stone houses so that they could be partially destroyed. No home, no tribute!
You can't miss to visit the Trulli during your Tours in Apulia ! 
One of the absolute characteristics of Apulia  are the Masserie. What are the Masserie? Imagine a world in the world. A Masseria was what we now call Agriturismo, farm. A reality in its own right, completely isolated from the world and totally independent. An ancient rhythm of life, based on traditions handed down over the centuries. Ancient buildings with a rich land extension of ownership.
Self-subsistence and micro-society, formed by the family, the peasants, the stables, the warehouses, all forming a micro-world.
A Masseria is much more than an estate, a ranch, a manor, a farm or even a hamlet. In the sixteenth-eighteenth centuries, rich nobles who wanted to start their own agricultural business built houses for themselves and their subjects, they themselves lived in large, small peasants. Also on the territory there was always a place to house livestock and their feed. 
From breakfast jam, to milk, to desserts made with eggs, to the wine you drink and the meat you eat. Everything you bring to your mouth is produced by the Masseria, at the most caught by the sea, you will taste it during poignant and inflamed sunsets, fixing unique moments forever. 
Not only that, unlike other regions in Italy, just travel 20-30 km and not only the landscape will change, but also the cuisine! 
In the Itria Valley people are meat lovers , since the sea is far away, here the meat is served in any form but the best is grilled " a la brace ".
While in Salento fish-based dishes are the masters!
Taste the local food during your Tours of Apulia and you won't forget it !  Fresh burrata cheese, Mozzarella, Orecchiette, Taralli…Friselle..Meatballs..are only few of the local delicacies you have to try.
There is no reason to go to Apulia, there are so many!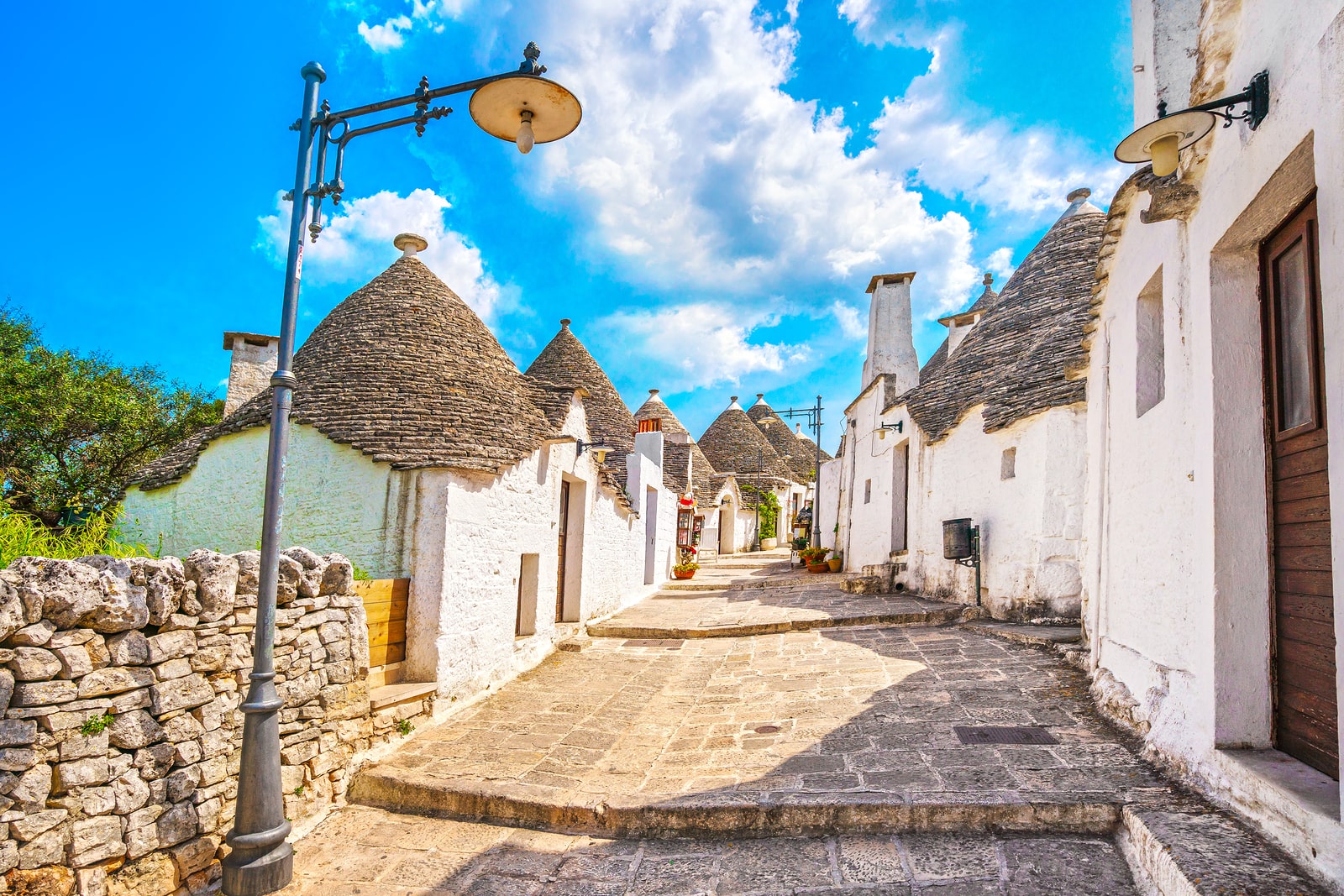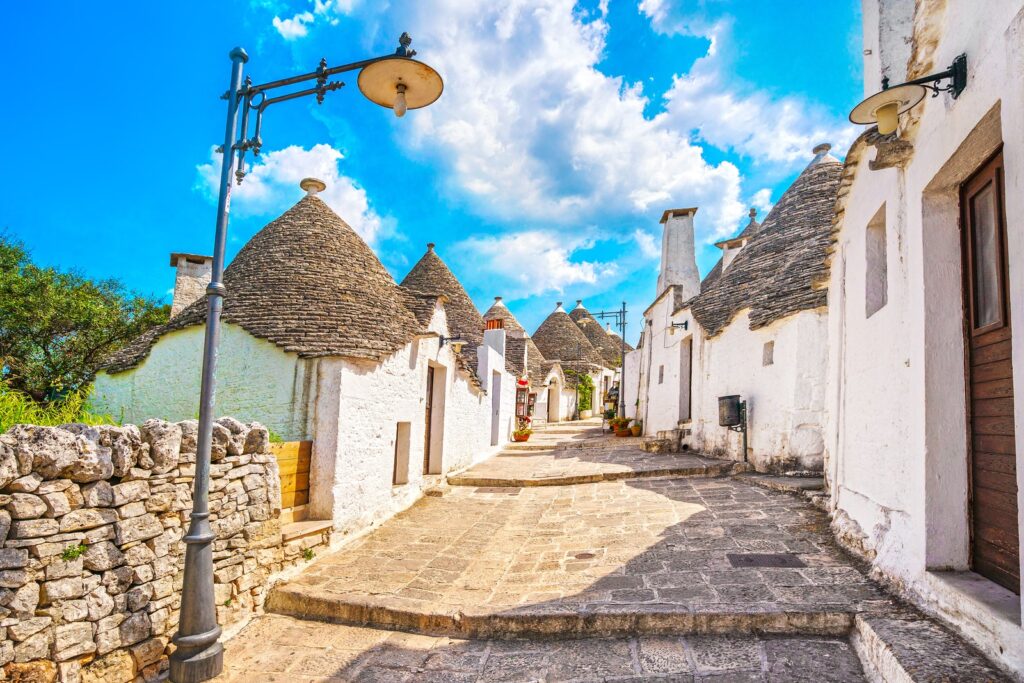 A week would not be enough to list all the reasons that could make you choose Puglia as a destination for your tour.
Be sure to visit not only Alberobello but also Locorotondo, Ostuni, Polignano a Mare , the Salento baroque towns ,without forgetting to live or have a meal in the traditional Trulli and Masserie , it is a unique experience!   It is possible to organize guided tours, private multi-day tours of Apulia, culinary experiences and  most of all, customize your stay according to your wishes and interests! 
Conclusion 
Soleto Travel can give you all the assistance and the best advice to plan your trip in complete safety. Discover our proposals or create your ideal holiday! Contact us for more information on everything that interests you about Apulia ! Soleto Travel has two offices: 
For any request or information for your holidays you can contact us without obligation!